In Southern Arizona, Tucson is a large city that is home to the Arizona Wildcats, Mt. Lemmon, many arts and culture spots and 545,340 people! While most people talk about Phoenix and Scottsdale as hot destinations in Arizona, Tucson has a lot to offer. If you are considering moving to Tucson, there are some things you should know before making the dive!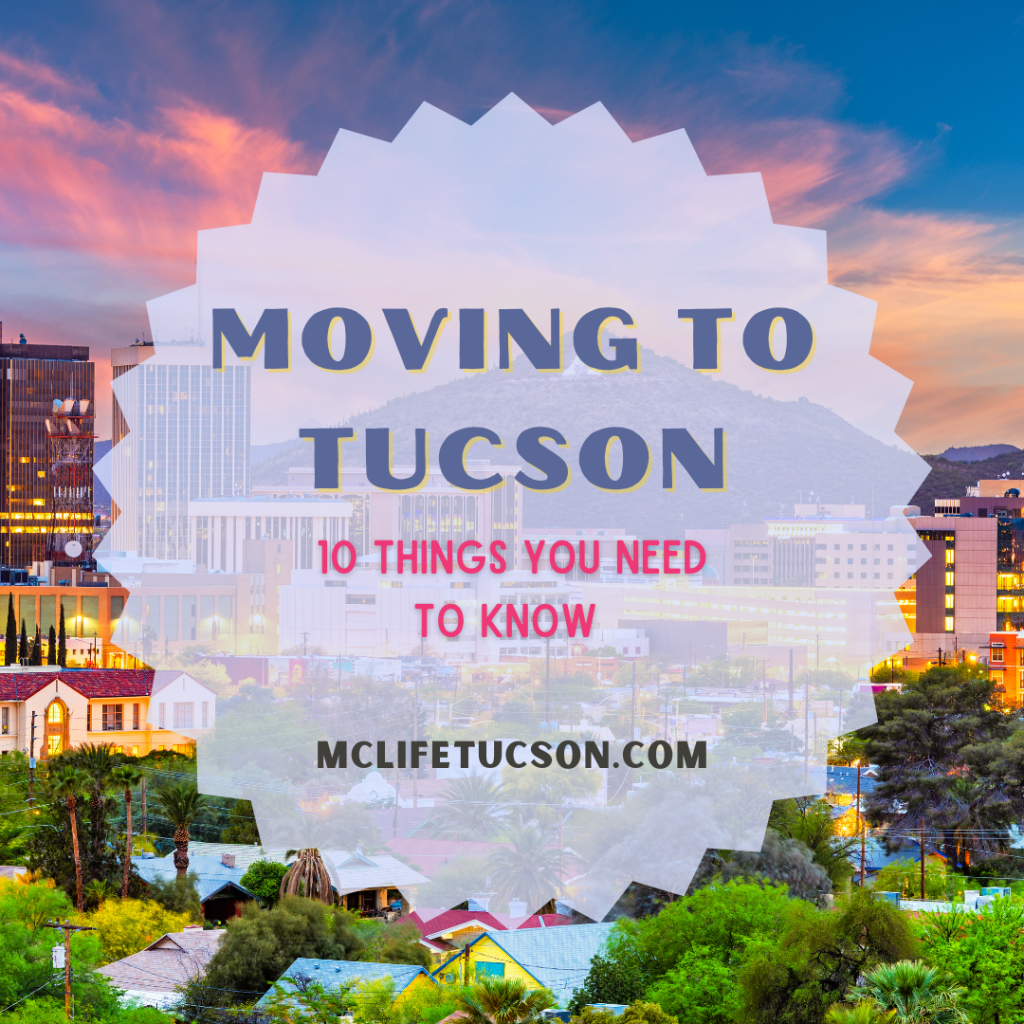 1. Moving in the summer can reduce your moving costs.
Summer is the off season and winter is busier, with a lot more seasonal residents which can make it more of a challenge to book moving trucks and moving companies. But, be mindful of the heat during the summer!
Temperatures are on average, 100 degrees or higher, and with flash floods and monsoon season, summer can be a volatile time. So if you are moving in the summertime, try to get the majority of any outdoor work done in the early morning and be sure to stay hydrated.
2. The cost of living is lower in Tucson.
On the cost of living index, Tucson rates 95.7 based on the national average of 100. The average rent for an apartment is $1250 and the median home value is just over $271,800.
3. Public Transportation is a great way to get around.
Tucson covers 200 square miles and has two main interstates to get in and out of the city: the I-10 and the I-19. Since you have to use surface streets to get around the city, traffic can get heavy during mornings and evenings when people are trying to get to and from work or school.
Luckily, Tucson has reliable public transportation. You can take the bus all around the city. Around the University of Arizona and Downtown Tucson, you can take the efficient SunLink Street Car. Ride the SunLink to visit the hot arts and culture destinations downtown and explore the city.
4. Tucson is ideal for outdoor activities.
Close to Mount Lemmon, Sabino Canyon and a ton of different biking and hiking trails, Tucson is a great place to get outdoors. Tucson is actually one of the most bike friendly cities in the United States. With massive cycling events like Cyclovia and Tucson Bike Fest, Tucson has many bike paths and bike friendly roads which make them ideal for cyclists.
You can experience a bit of everything in Tucson, it isn't just desert! We've got the Santa Catalina Mountains to the North, the Tucson Mountains to the West, the Tortolita Mountains to the North West, the Rincon Mountains to the East and the Santa Rita Mountains to the South. Plus there are a lot of great urban trails as well. There's no excuse here for not getting outside!
5. The weather isn't that bad!
While summer gets a bad rap, the dry heat keeps us from totally losing our minds. Even during Monsoon Season from late June-August, humidity stays tolerable.
Summer temperatures are high and on average 100 degrees daytime temperatures last from around May to September. But during the Spring and Fall the average temperate is around 80 degrees. Talk about pleasant!
You also don't have to worry about freezing during the Winter time! Our Winter temperatures on average are around 65 degrees!
6. Tucson has a great food scene
Don't dismiss Tucson because they've got an up and coming food scene that cannot be denied! Farm to table restaurants like Augstin Kitchen, Seis Kitchen, Prep and Pastry, The Coronet, and Cup Café at Hotel Congress are changing the game in Tucson.
There's a bit of everything. You can find authentic Mexican cuisine, upscale dining, farm to table, French inspired fare and more. Anywhere you go in the city, you are bound to find some incredible flavors you can't get anywhere else. Plus Tucson is home to the Sonoran Dog (a Tucson staple).
7. There's a lot going on
Tucson has festivals and events happening year round. There is the Heirloom Farmers Market at St. Phillip's Plaza on weekends, Second Saturday events monthly in Downtown Tucson, the major annual Tucson Meet Yourself Festival, Cyclovia, a huge Pride Parade and Festival, Tucson Book Festival, plus a one of a kind Dia de los Muertos All Souls Procession.
You can go see great live music at the Rialto Theater, Club Congress, and The Rock. Tucson has a lively arts and culture scene with more events than you can count. There is something happening all the time!
8. Tucson is Wildcat Country!
We can't talk about Tucson without talking about the University of Arizona Wildcats. Tucson has been home to UA since 1885. Alumni are very serious about their Wildcat pride and the city is consumed by Wildcat fans during basketball and football games. Sporting events are fun! You have to check out at least one game while you live in Tucson.
Aside from sports, the University is a tremendous stimulator for jobs and technology in Tucson. Biosphere 2 is an incredible educational science center founded and ran by the University of Arizona complete with rainforest and ocean biomes to view and study. The UA Astronomy Department and Steward Observatory have been key players in space study.
9. Tucson has the best sunsets.
Nothing makes the sting of traffic burn less than sitting in your car and seeing an amazing sunset off the Catalina Mountains. Seriously, Tucson has some of the very best sunsets year round!
10. Tucson is a young city!
While people often think Arizona is filled with snow birds and old people who live here seasonally, the average age in Tucson is actually 4 years lower than the national average. Despite your age, there is so much to do around Tucson that you will feel young! Get out, explore and see all that Tucson has to offer. There really is something for everyone here!
So what do you think? Ready to move to Tucson? We would love to have you hear! MCLife Tucson has many properties throughout Tucson that are waiting for you. We'll see you in the Old Pueblo!