Looking for apartments in East Tucson? Trying to find a community that matches your needs, age and interests? The Place at Broadway East is an ideal community for #After55 individuals looking for a lively, connected place to call home.
It is located near many shops, restaurants and thinks to do. The Place at Broadway East is the perfect apartment community for the retiree, and boomer looking to blossom in the next chapter of live. Let's explore the surrounding area and give you a better idea of what life could be like here as one of our residents.
There are many nearby restaurants that will satisfy any palate or craving. Get together with friends for happy hour, grab brunch on a Sunday morning, and enjoy patio dining in East Tucson.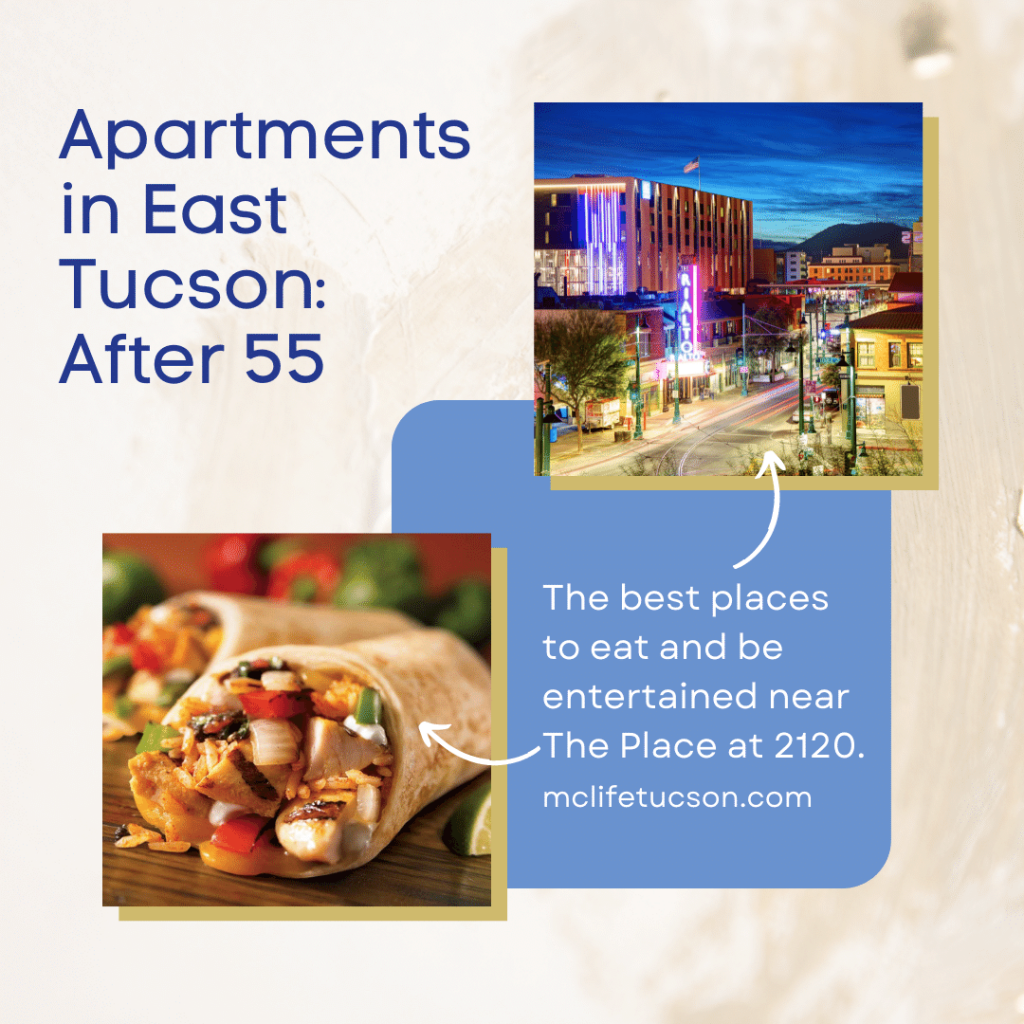 Restaurants near The Place at Broadway East
Where: 7131 E Broadway Blvd. Tucson, Arizona 85710
Why: It's our favorite breakfast and lunch spot in East Tucson, with a large patio for outdoor dining and you can bring your dog! They specialize in bacon, and pork dishes, and offer awesome Bloody Marys. It's the only restaurant we have found that offers a flight of Bloody Marys so you can try each of their unique flavors. This homey spot is a go-to for Tucson residents.
Where: 4625 E Broadway Blvd, Tucson, AZ 85711
Why: This one of a kind restaurant was founded in the 1960s when Hawaiian Luau themed bars were all the rage. Locals love this hidden gem and keep coming back for the wide variety of tropical cocktails, fun atmosphere and happy hour steals.
Where: 7053 East Tanque Verde Road, Tucson, AZ 85715
Why: Another local favorite, The Eclectic Café has homemade, health conscious meals for breakfast, lunch and dinner. They're serving up yummy Mexican, vegetarian, and gluten-free options 7 days a week. Dine out on their large patio and enjoy a warm breakfast with friends.
Where: 5532 E Speedway Blvd, Tucson, AZ 85712
Why: Takamatsu is our go-to spot in East Tucson for Asian flavors. They have an awesome lunch buffet, sushi bar, Korean barbeque and daily happy hour. The dishes are authentic, flavorful and reasonably priced. We love stopping in for the sushi buffet, and the happy hour deals.
Entertainment near The Place at Broadway East
Tucson is a city filled with arts, culture and events to keep you busy throughout the year. There are year round festivals that keep locals coming back and draw in visitors from around the state. Take in a show, see a local act, or have a laugh at some of our favorite spots in East Tucson.
Where: 7010 E Broadway Tucson, AZ 85710
Why: The Gaslight Theater is a one of a kind theater experience that brings together local talent for fun and funny productions. With a Western atmosphere, tasty concessions and casual food, it is a great place to spend a night out. Get your theater fix at the Gaslight!
Where: 3233 E Speedway Blvd, Tucson, AZ 85716
Why: The Loft Cinema is a nonprofit movie theater showing indie films, hosting special filmmaker QA events, and is home to the Tucson International Film Festival each year. It is a unique place to catch a film you wouldn't see in your usual movie theater and gives you the opportunity to get up close and personal with filmmakers. It is a beacon for the arts in Tucson.
Where: 6601 E Speedway Blvd, Tucson, AZ 85710
Why: Dorado Country Club is a golfers paradise! It has is home to an 18 hole, with 8 par fours, and 10 par threes golf course. Admire the scenery and great outdoors, with a view of the Catalina Mountains while you practice your swing.
Where: 318 E Congress St, Tucson, AZ 85701
Why: The Rialto Theatre is the top choice for most locals for live music, performances, and events. See well known national acts, as well as quirky local ones. It is in the heart of Congress Ave with many nearby restaurants in walking distance. It is at the center of arts, culture and foodie favorites in Tucson.
The Place at Broadway East
Remember, each of these places are located near our property The Place at Broadway East. Most of these properties are within 5 miles of the property which make them perfect for our residents to enjoy! The Place at Broadway East is an after 55 community that connects residents to the world around them. Enjoy a lively, lifestyle and comfortable living with others who are in the same chapter of life as you.
If you are curious to know more, or would like to schedule a tour, you can call: (520) 277-2433