The thing about apartment bathrooms is that they're notoriously small. That doesn't mean that you can't make the most of that space. Here are some space saving tips for apartment bathroom storage.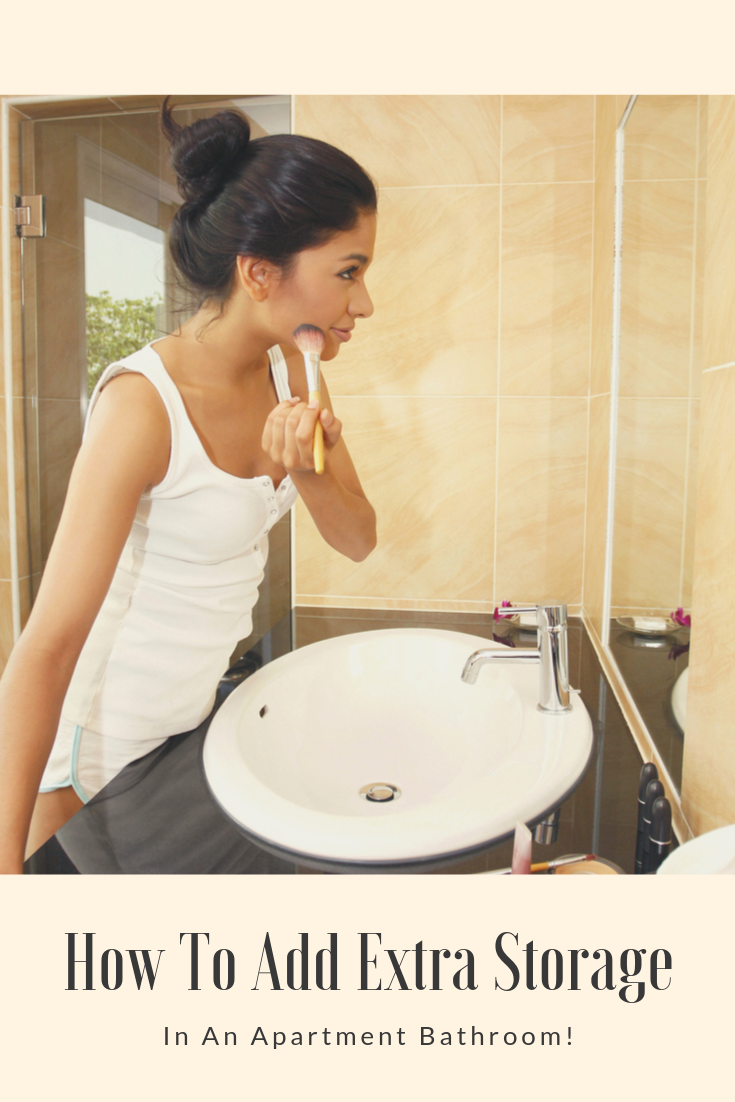 5 Ways To Create Extra Storage In An Apartment Bathroom with Space Saving Tips!
These are all great ideas, especially if you are living in an apartment where you have to share space. That can make things even more tricky. All of these extra storage ideas can be completed with very little investment and usually without damaging the walls, floors, or fixtures of your new apartment so your deposit is safe!
Tension Rods
Hang caddies on a second shower rod. Install a second rod and use shower curtain hooks to hang inexpensive, rubber caddies from it; this is an inexpensive way to store more shower products without them being strewn across the floor!
Utilize The Space You Have
Make the most of your doors! A shelf placed above the door can hold extra Q-tips, cotton balls and other items, cleverly disguised in decorative bottles or baskets.
An over-the-door shoe organizer can be repurposed to hold – Hairspray, Brushes, Hair clips, and even makeup products as well.
The backs of cabinet doors can also be used to organize small items. Simply hang a magnetic strip to keep track of bobby pins, tweezers, nail clippers and other metal items. Check out the kitchen storage options at Walmart. Small bins and racks that would normally hang over the inside of kitchen cabinet doors can be used to hold makeup and beauty products in the bathroom!
Shelves & Layers
Add layers under the sink! Use a two-tier turntable under the sink to keep small containers of makeup, cold cream, lotion or other toiletries easy to reach. Stackable shoe drawers or bins can be used to maximize vertical space.
You can also add stackable cabinet organizers from the kitchen section! They're sturdy enough to hold plates which means they can also stand up to your organizing needs in the bathroom.
Choose Furniture Wisely
Sneak a slim cabinet next to the side of your toilet. Extra rolls of toilet paper and other essentials are concealed yet close at hand. You can also add an over the toilet organizer which uses the space behind and above your toilet very nicely.
The great thing about these kinds of furniture pieces is that you don't have to worry about doing any damage to the walls, floors, or fixtures. There's no need to worry about your deposit when you choose inexpensive furniture additions instead of on the wall shelving!
Towel Storage
Use a decorative wine rack on the wall or in a cubby insert to hold rolled towels while freeing up space in your cabinets or linen closet.
You can also use tension rods to create places to hang towels without damaging the walls. Keeping your towels hanging in the bathroom is handy for when you need them and it frees up space in your closets! These space saving tips can help you make the most of your apartment bathroom storage, even if it's a shared space!