Here at MCLife we believe in sharing the good life and that means giving you the best places to eat, shop and play around our communities. We are going to be posting guides to each city with our favorite restaurants, shops, cafes, festivals, events and more.
We want you to get the most out of living at our properties and part of that means giving you information so you can interact with the world around you. If you haven't heard about our 5-5-5 program, let me tell you about it.
The 5-5-5 means we will give you the best 5 places to eat, shop and play all within 5 miles and 5 minutes of each our MCLIFE communities. This blog is a Summertime Special!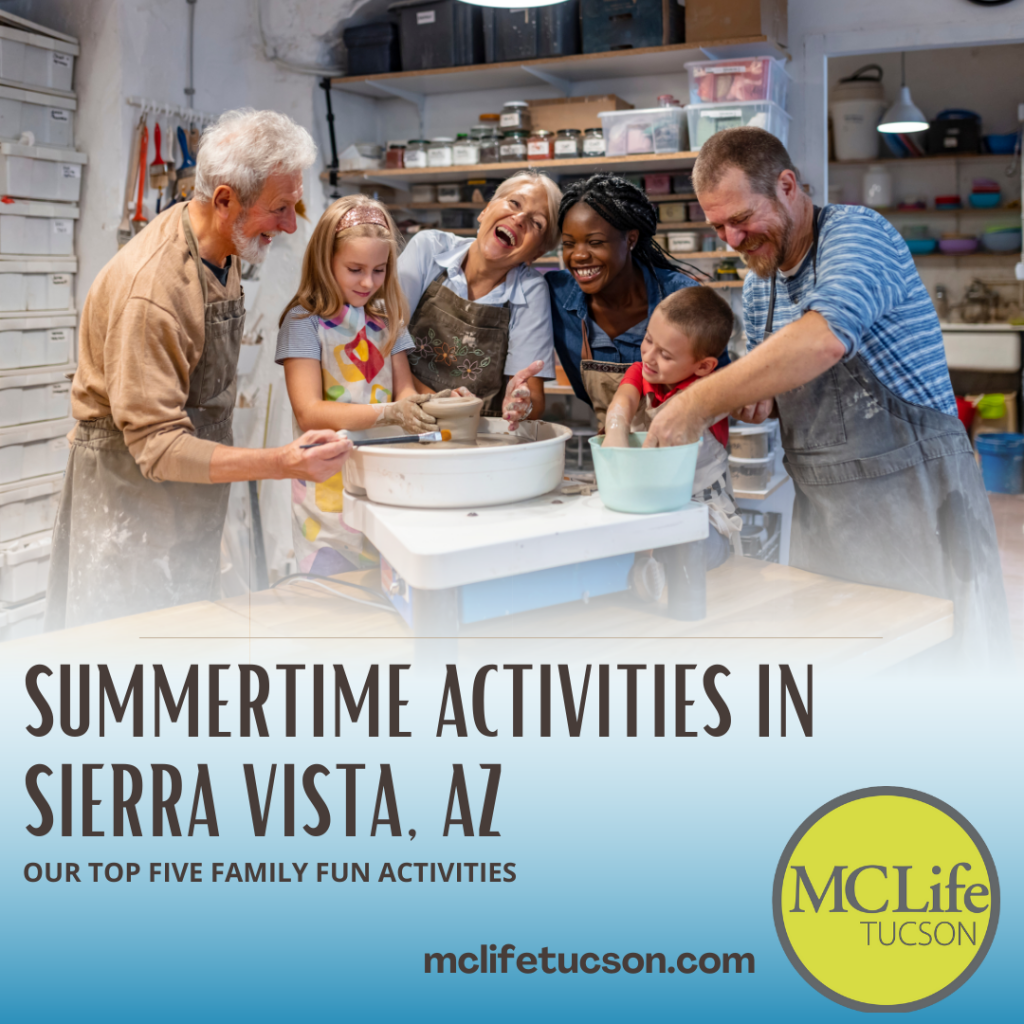 Top 5 family friendly activities
We are going to be talking about our top 5 family friendly summertime activities in Sierra Vista, close to our property there, The Place at Savanna Springs.
These summertime activities are perfect to get you and the kiddos out of the house and having a good time. All of the choices picked in this blog are all within 5 miles of the property! You can walk, bike, drive or take public transportation to all of these activities. Let's get started!
What: Indoor Waterpark
Where: 2900 Martin Luther King Jr Pkwy, Sierra Vista, AZ 85635
Why: When temperatures rise, why not cool off in an indoor waterpark? You'll get the fun of a swimming pool without having to worry about sunburn! There's a wave pool, slides and inner tube rides. Plus the pool is heated so it is always ready for a dip.
The Cove offers swim classes for kids as well as water workouts that include aqua Zumba and aqua cardio! Fun for the whole family!
Movies in the Park
What: FREE family movies in Veterans Memorial Park four nights this summer!
Where: Veterans Memorial Park (3105 East Fry Boulevard, Sierra Vista, AZ 85635)
Why: Free family movies for you and your kiddos! You can meet up with other parents, your kids can play with one another and enjoy a free film at dusk.
What: Operating telescope by the University of South Foundation, INC. and Huachuca Astronomy Club
Where: 1040 Colombo Ave, Sierra Vista, AZ 85635
Why: Come to a Star Party or a Public Night for a star gazing event unlike any other. Get a view through the telescope to observe stars and planets in the night sky. Fun, educational and beautiful. Check out the Patterson Observatory for the latest events and star gazing parties.
What: pottery classes for children and adults
Where: Oscar Yrun Community Center (3020 E Tacoma St, Sierra Vista, AZ 85635)
Why: When your kids begin to get restless as summer begins and you're running out of things to do with them at home, why not enroll them in a fun pottery class?
The Pottery Studio has a wide range of classes, some for children ages 6+ and some for adults, to get out your creativity and pick up a new hobby. Summer classes run through May, June, July and August. You can check their website for course descriptions, schedules and registration information.
What: Fun and educational hands on activities with different themes each Saturday
Where: Frank H Henry F. Hauser Museum (2950 E Tacoma St Sierra Vista, AZ 85635)
Why: Summer Saturday's at the Museum are a great way to get out of the house, teach your kids something new and entertain them with fun activities. Plan ahead – You do have to register for these programs! You can learn more on their website.
So there you have it! These are 5 of our favorite summertime activities that you can have fun doing with your family!