Stress is part of life and it can come from many different sources. Medical and health problems, gaining an education, job pressures, family and financial responsibilities, legal woes, and more can cause a great deal of physical and mental stress.
Studies have shown that moving is the third highest source of stress, next to divorce and death of a relative.  Did you know that military families move, on average, once every three years? This means that the stress of moving on military families is much higher and happens more frequently than nonmilitary families.
Since military families experience moves more often than non-military families you might think they have moving down to a science, but this isn't necessarily the case. No matter how many times a family has moved, each journey comes with its own challenges, issues and stresses.
Luckily there are resources military families can use to make the most out of a move and get their family acclimated to a new area faster.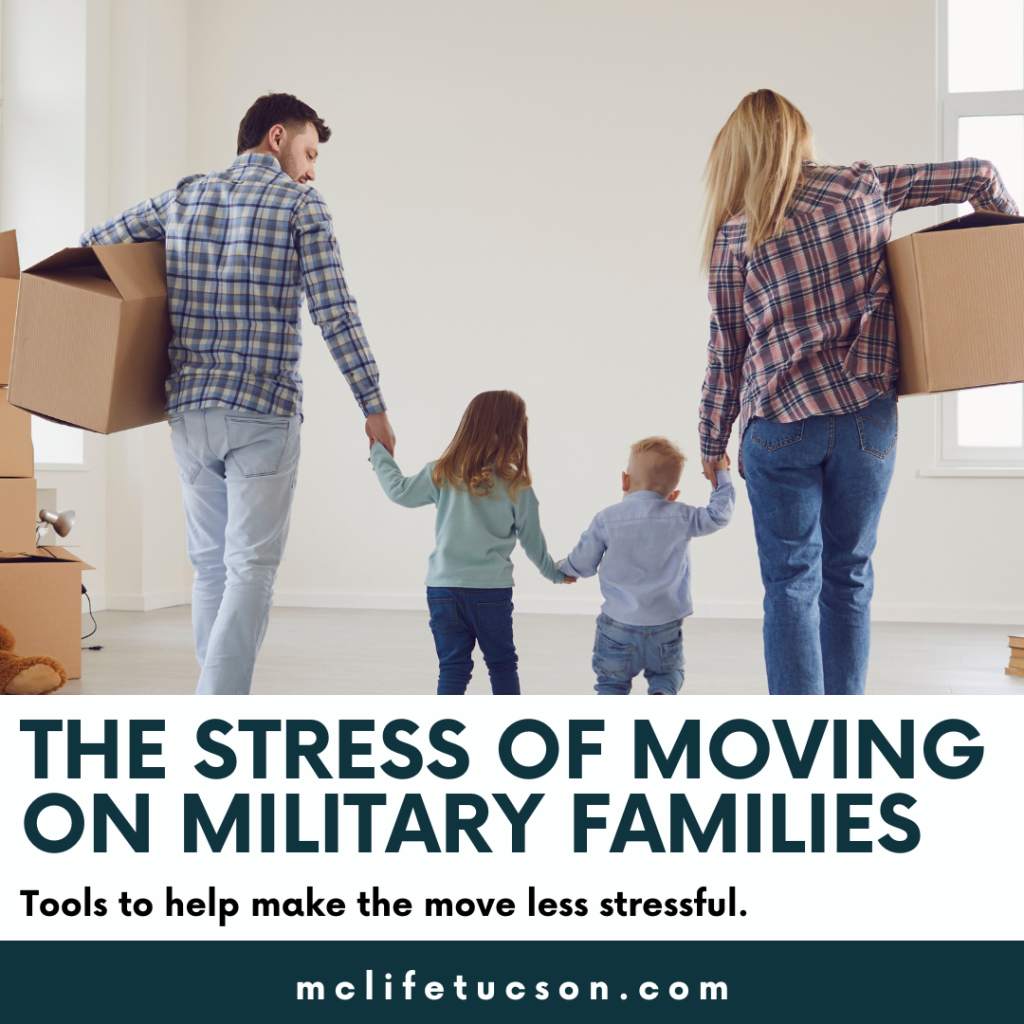 Moving Resources for Military Family
Military One Source is a great website that gives you resources to help you relocate better. They have information on deployment, reunion, relationships, grief, spouse employment and education, parenting and childhood services, and much more. It's a great place to start gathering information before and during a move.
Before moving
It's always a great idea to get in communication with the relocation manager at the new base. They can give you important information on what "move entitlements" are in place and what assistance is available to you and your family. They are there to help you make the transition so they are a great resource to give you the information you need.
Do some research on your own! Find out what community organizations are in your new city or town. Find churches, kid's activities, sports leagues, moms groups and more. For example, US Youth Soccer allows you to look up all programs, tournaments and active cities that you can check out before a move.
Moms Club has chapters throughout the United States that offer activities for you and your children. You can find organizations and events in your new city that cater to your interests and needs.
After the move
Once you get into your new neighborhood, start meeting the people around you. If your apartment complex offers resident events, attend them. Speak to your community director or property manager about resident opportunities. They are plugged into the community and can help you meet your neighbors.
Uprooting and putting your children into a new school is a challenge mentally and emotionally. Speak to your school's administrative staff or guidance counselors to find ways to get your children involved and active. 
Get involved with your children's school. If there is a meet the teacher night, go. Many schools have newsletters sent out in the mail or by email that tell you what is happening in the school and school district, check that out.
If religion plays a large role in your life, find a local church that fits with your beliefs and see what youth and adult groups they have. Finding people with similar values and interests is a great way to start feeling at home in a new place.
Wherever you move you must learn to make a new home. The fastest way to do that is to immerse yourself in the community. Go to community events on weekends, join a book club or group that reflects your hobbies and interests.
Encourage your children to join extracurricular activities like sports and clubs. Get outside, meet your neighbors and find out what resources are out there for you.
Stress Relief
Participate in activities that are designed for stress relief, like yoga. Find a community center, mom's group, exercise studio or do a DVD in the comfort of your home. Keeping your mind and body healthy and clear will help you prevent stress from taking over.
Studies have linked yoga to relieving high blood pressure, elevating mood, and helping participants develop better balance, flexibility and higher levels of energy. Yoga can help you take a step back, and breathe when stress threatens to take over.
Taking fitness classes can lead to new friendships with fellow classmates and people you meet through your recreational activities.
Make a Move Successful:
You are the key to making a move go smoothly. If you take time to do some research and prepare your family for the move, it will pay off in the end. Remember to get engaged with your new community and surroundings. Keeping your children active and interacting with other children at school, in the neighborhood and at extracurricular activities will help them acclimate and transition.