Tucson is a city filled with art, history and culture which makes it the perfect place to find one of a kind shops. Instead of shopping at the big name stores, why not support local businesses and find unique items made locally? We've picked out some of our favorite local shops that we want you to check out! From one of a kind items to furniture, art, tools for the kitchen, clothing, accessories and more, there are plenty of locally owned shops where you can find everything on your shopping list!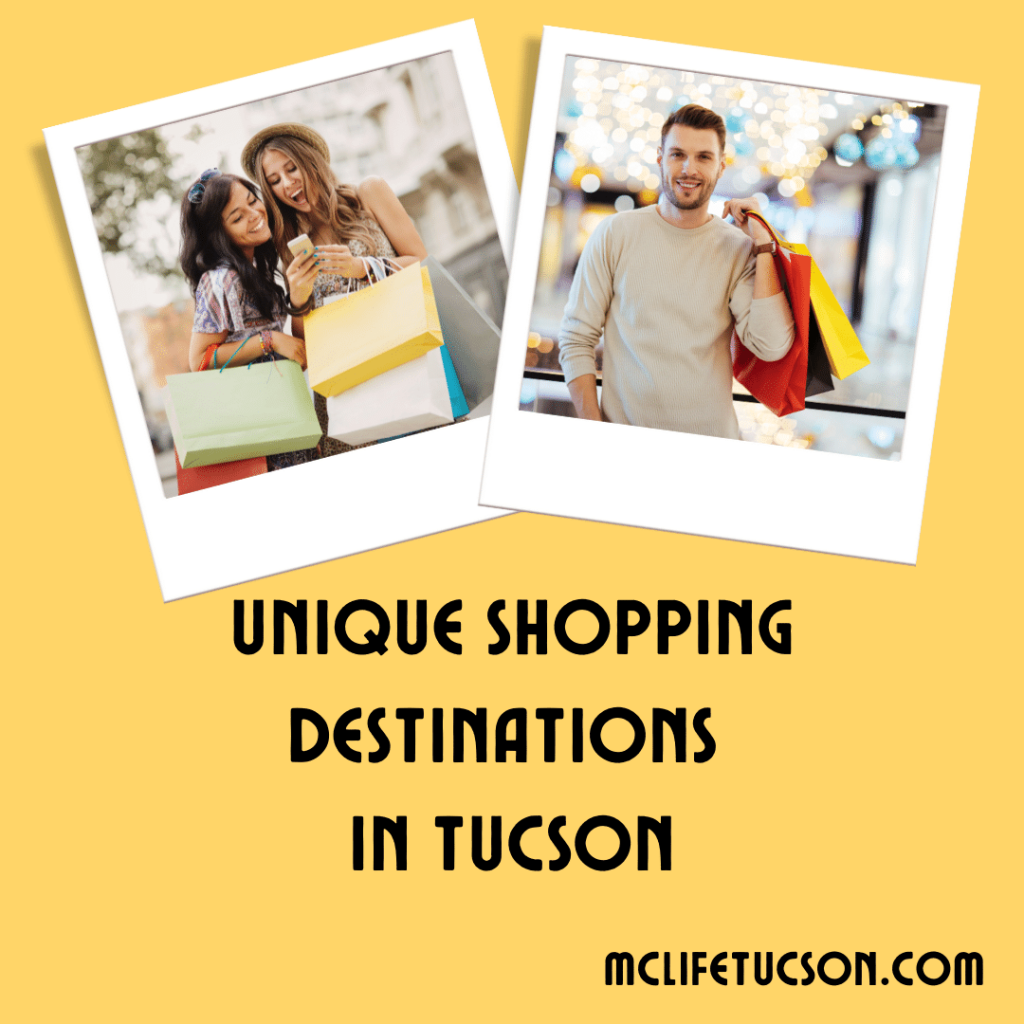 Favorite One-of-a-Kind Shops:
Where: 3061 N Campbell Ave, Tucson, AZ 85719
What: Native Seeds/SEARCH is run by a nonprofit conservation organization that is keeping native Southwestern crops alive while promoting sustainable food. They have a cute retail shop that sells spices, cookbooks, Southwest sauces and seeds that you can plant in your own home garden. There are also hats, t-shirts and a library of gardening and regional plant books.
Where: 201 N. Court Ave. Tucson, AZ 85701
What: Go down to El Presidio Historic District and check out all of the incredible features of Old Town Artisans. With shops featuring local and regional art and crafts, plus a restaurant, cantina and relaxing courtyard, Old Town Artisans Is a Tucson treasure. Stroll through the shops and view the original ceilings made of saguaro cactus ribs, packing crats and whiskey barrel staves with remnants of imported wallpaper and gold-leaf moldings. It is a wonderful place to find unique gifts and get a taste of the Southwest.
Favorite Antiques and Home Goods:
Where: 200 S Park Ave Tucson, AZ 85719
What: The Lost Barrio is a unique destination for all of your home needs. Inside a restored warehouse district, The Lost Barrio sells antiques, handmade furniture, world imports, art and more. The interior is brightly colored with tiles and paint that entire shoppers inside. When looking for housewares, wall décor or art, we love going to the shops and galleries within The Lost Barrio.
Where: 3006 E Grant Rd, Tucson, AZ 85716
What: Designers Craft is the place to go for larger architectural pieces and furniture. The shop is filled with items from around the world in the form of moldings, doors, bookcases, tables and more. Products are high quality, antique furnishings made from rosewood, teak, and mahogany. You can also find pots, tables, wooden benches, marble fireplace surrounds, antique pillars, shutters, doors, balcony rails and windows. It is such a cool place!
Where: 3072 N Campbell Ave, Tucson, AZ 85719
What: The Grey House Antiques has vintage and antique home décor, furniture and more. There is a mix of high end European antiques, architectural and industrial elements, lighting, paintings, costume jewelry and vintage clothing, as well as mid-century décor. It is another quirky shop in Tucson to go antiquing.
Favorites for Clothing and Accessories:
Where: 444 N 4th Ave, Tucson, AZ 85705
What: Located on popular 4th Ave, Creations Boutique has modern apparel for women and juniors. It is an adorable boutique with quirky picture frames hung up on the walls to display jewelry, and a mix of bohemian chic and contemporary clothing. You can get some killer deals on the clearance racks as well.
---
These are some of our favorite local shops in Tucson for antiques, housewares, fashion and more! This holiday season, opt out of the big brand stores and shop small. Supporting local businesses is better for Tucson and will help you find unique gifts that you can't get anywhere else.