Vet care costs in Tucson and places nearby can be costly if they pop up unexpectedly. Today we're talking about not only where you can find Tucson veterinarians but also how to plan for, save, and afford vet costs in Tucson.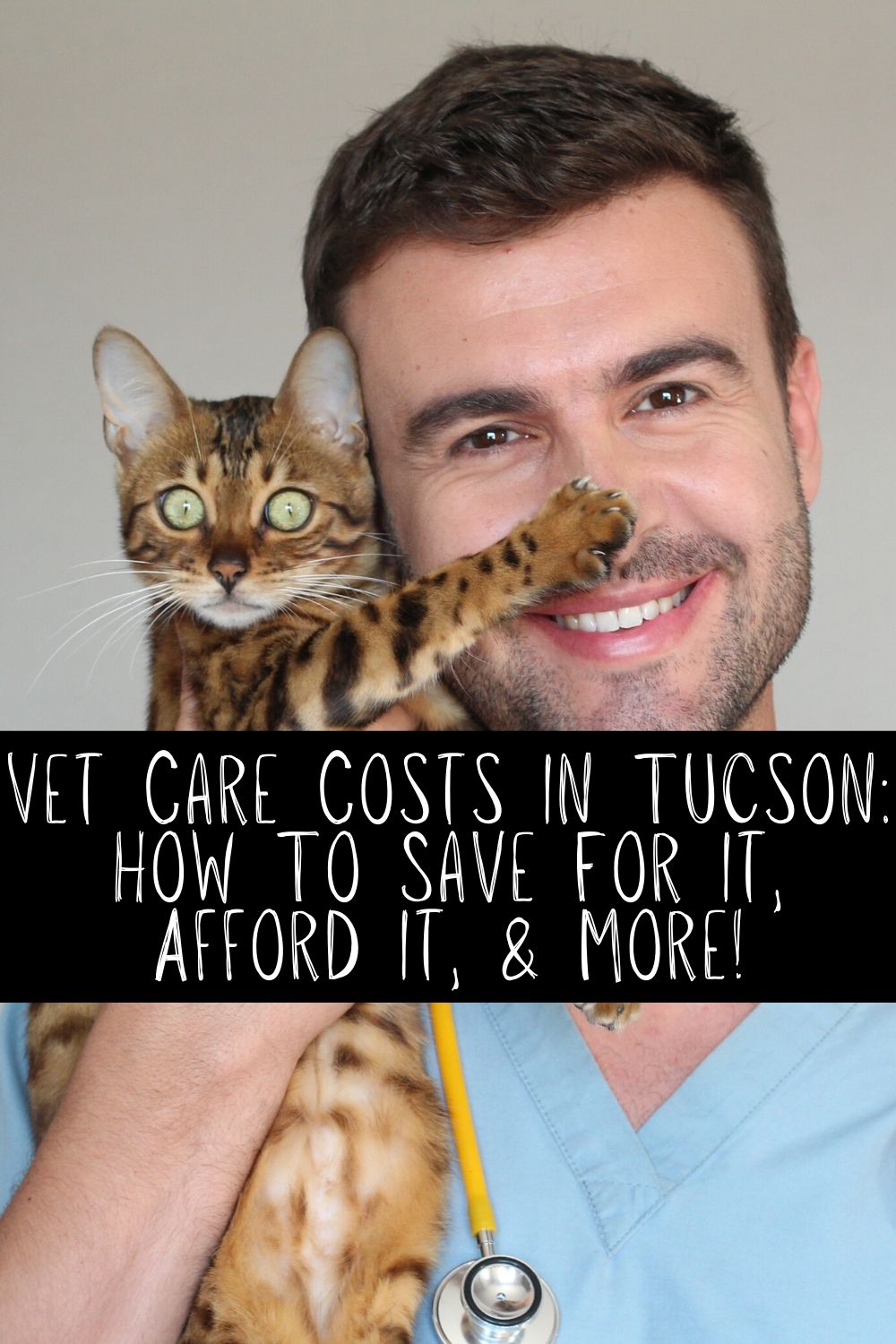 Vet Care Costs In Tucson: How To Save For It, Afford It, & More!
There's no real way to plan for how much it will cost to take care of your pet over the course of their entire lifetime. Vet care costs in Tucson will vary depending on what happens, how long your pet lives, sheer luck, and of course their genetics. Things pop up of course but there are ways to be prepared and things you can do even if you are not prepared. Check out these vet care costs tips below and then keep scrolling to find some suggestions for Tucson Veterinarians.
Save Ahead Of Time
The best offense is a good defense, right? The same goes for a pet. If you can, you should start saving long before you get a pet. That way you have a fun set aside for them. You can use this for their care, for emergencies, and for their supplies. It will help to make sure that a single emergency doesn't mean life or death for them or your finances.
Start out small by saving just $10 a week and see where that takes you. Honestly, you should work up to an amount that is equivalent to what you would spend weekly for food and other supplies for your pet and you should try to sustain that amount for as long as possible to make sure you are ready for the basic needs of a pet. Increase the amount as you are able to put away extra cash for when your pet needs medical attention, they will, it's just a matter of when. Even routine care is costly over the years!
Pet Insurance
There is no shortage of pet insurance companies. Many home and car insurance companies also sell pet policies so check with your current insurer before you start to make sure you have access to a company and plan you trust!
Prices will vary based on age, breed, and current medical status for pets. Get them pet insurance young whenever possible because the policy will likely not cover any pre-existing conditions! Pet insurance is excellent but if you can't afford it you should consider putting away a similar amount of money each month into a savings account like we suggested above. These experts know what it would cost to care for possible emergencies so their pricing could help guide you to the appropriate savings amount as well.
CareCredit
CareCredit is a great option for when emergencies pop up. It's a credit card that works for medical care for your pet. A lot of vets accept it, check with yours before signing up. The great news is that CareCredit also works at many human care facilities so you can keep it open for use on your family medical emergencies as well.
Keep in mind that CareCredit usually offers interest free grace periods as well. So for procedures over a certain price you'll have say, 6 months to pay off the bill without paying interest. Plan accordingly and get the bill paid off in that time frame to save yourself some money!
Negotiate a Payment Plan
Speaking of payments…ask your vet office if they can set up a payment plan for you. This might be as simple as making payments ahead of time until you are up to the amount you need for care and procedures or maybe they'll help you set up payments to cover an emergency. It is different at every office and you'll just need to ask to find out what options they have.
You might also want to ask about bartering options. Some vets may allow you to barter goods or services in exchange for care! It never hurts to ask and it could end up helping you cover the cost of vet care for your pets.
Get a Second Opinion
If you find yourself questioning the pricing of your vet care don't be afraid to call around and price common services so you can compare. There is always going to be a difference based on each vet and their preferences and their pricing choices!
Get a second opinion in the mix and see where you can get the best value for your money. Keep in mind that lower cost doesn't always mean lower quality just like higher cost doesn't mean the best care. Read reviews, ask colleagues, neighbors, and friends for recommendations, and plan ahead of time!
Look For Low Cost Clinics
Does your area have a human society or SPCA? They often run low cost clinics for shots, routine care, and check ups. Some even run full scale vet clinics that handle emergencies and surgeries, check with them before heading out to a private practice Vetranarian as it could be more cost efficient.
Another option is to check local stores like pet stores and feed stores like Tractor Supply. They run pet clinics for shots and check ups they even offer microchipping in some locations! These places offer cost effective options for routine care. Saving money where you can is important so that extra cash can be set aside for emergency situations.
Options for a Tucson Vetranarian:
We've covered what to do to prepare and pay for your vet care costs in Tucson but now we need to show you where to go to get that care for your pets! Here are some suggestions for local Tucson veterinarians that can help you and care for your pets!
Animal Care Center of Green Valley
555 E White House Canyon Rd, Green Valley, AZ 85614
(520) 625-0433
Cimarron Animal Hospital
180 N Harrison Rd, Tucson, AZ 85748
(520) 886-1125
Veterinary Specialty Center of Tucson, VSCOT
4909 N La Cañada Dr, Tucson, AZ 85704
(520) 795-9955
Southern Arizona Veterinary Specialty and Emergency Center
7474 E Broadway Blvd, Tucson, AZ 85710
(520) 888-3177
Ajo Veterinary Clinic
382 W Ajo Way, Tucson, AZ 85713
(520) 623-5728
VCA Valley Animal Hospital and Emergency Center
4984 E 22nd St, Tucson, AZ 85711
(520) 748-0331
Santa Cruz Veterinary Clinic
5408 S 12th Ave, Tucson, AZ 85706
(520) 889-9643
PAWS Veterinary Center
300 E River Rd, Tucson, AZ 85704
(520) 888-7297
University Pet Clinic
1506 N Tucson Blvd, Tucson, AZ 85716
(520) 795-7016
St. Marys Animal Clinic
1010 W St Mary's Rd, Tucson, AZ 85745
(520) 623-8439
Pima Pet Clinic
4832 E Speedway Blvd, Tucson, AZ 85712
(520) 327-5624