Tucson is becoming a foodie mecca, with innovative restaurants popping up every year and chefs trying new creative tricks in the kitchen. If you're a foodie, you are always on the lookout for the best, fresh and interesting eats around town. We are bringing you 5 Must-Try Foodie Destinations in Tucson. These spots are premiere destinations for people who love food and can't get enough!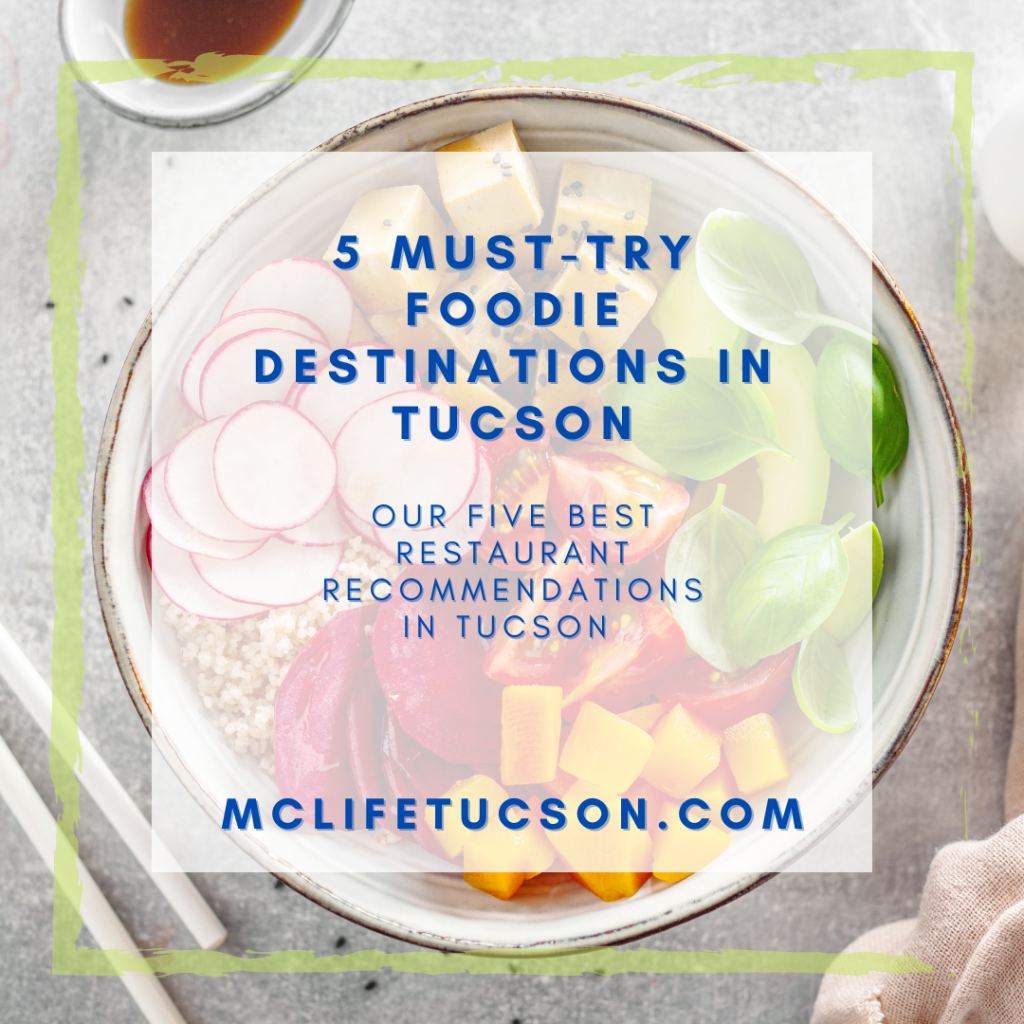 Our Must Try Foodie Destinations in Tucson
Where: 101 E Pennington St Tucson, AZ 85701
What: Reilly Craft Pizza and Drinks is an incredibly delicious spot in Downtown Tucson on well-loved for dishes like Fried Brussel Sprouts. Sit outside in the beer garden and enjoy wood fire pizza, authentic Italian pastas and more. While they're a lunch and dinner spot, you can't miss their weekly happy hour as well.
Must Try: During happy hour, we love to get the Chef's Board which offers up cured meats, cheeses, roasted veggies and other seasonal bites. But you have to try the Brussel Sprouts appetizer which comes with sherry vinaigrette, house hot sauce, and pecan brittle crumbs. Our favorite pizza is the Arugula and Prosciutto.
Where: 722 N Stone Ave, Tucson, AZ 85705
What: The Tasteful Kitchen is a modern eatery serving up innovative vegetarian and vegan cuisine. Even meat eaters enjoying coming here for fresh, inspiring meals. The Tasteful Kitchen believes in using the freshest products from local farms and vendors with a menu that often highlights a farm to table experience.
Must Try: Since the menu changes with seasonal ingredients, you'll always find something new here. On the Late Summer 2015 Menu, we've loved the Autumn Beet Salad (organic mixed lettuce, marinated beets, fresh oranges, dried cranberries, toasted pumpkin seeds, organic apple cumin vinaigrette with optional goat cheese). The Portobello Mushroom Wellington (portobello mushroom with vegetable duxelle filling baked in puff pastry, red wine demi glace, sauteed seasonal vegetables) is incredible.
Where: 311 N. Court Ave. Tucson, Arizona 85701 (The Original Location)
What: This Tucson institution has been filling up bellies with delicious Mexican food for years. The restaurant has an eclectic mix of décor and furniture that brings alive the history and culture behind the food.
Must Try: We love the Charro Birria Burrito with slow cooked shredded beef, mild green chile & seasonings. Two options for your burrito that we often get are: Enchilada Style (queso melt style with red or green enchilada sauce on top) and Elegante Style (enchilada style add guacamole, crema & pico salsa).
Where: 266 E Congress St Tucson, AZ 85701
What: The Hub Restaurant and Ice Creamery is one of the latest, hip foodie destinations in Downtown Tucson.They're bringing you comfort food, with a modern twist on pub food you love like hot wings, cheese curds and more. Plus their ice cream is to die for!The SunLink Streetcar has a pick-up and drop-off point right across the street which makes it a great stop on weekends while hopping around Downtown.
Must Try: Glory Curds (Fresh cheddar curds flash-crisped with sriracha ketchup), and the Calamari (Cornmeal and ancho chili-dusted, spring onion, roasted corn, cotija, cilantro leaf, tomatillo emulsion) to start your meal. They have great sandwiches, mac and cheese and comfort food you crave like Chicken Pot Pie. Their ice cream rotates with seasonal flavors like Salted Pistachio Chip. But you can count on staples like Bourbon Almond Brittle and Dark Chocolate.
Where: 311 E Congress St, Tucson, AZ 85701
What: Cup Café is a trendy little spot serving up breakfast, lunch and dinner out of Hotel Congress, a hotel built circa 1919 in Downtown Tucson. Their patio is a favorite spot for happy hour, brunch and catching up with friends over a delicious meal. You haven't lived until you've had brunch at Cup Café!
Must Try: The Cast Iron Baked Eggs are hands down one of the best brunch dishes you can get. They come with: two eggs, ham, leeks, gruyère cheese, cream, fines herbs, baked in a cast iron skillet with hotel potatoes, toast. Our second brunch favorite is the Braveheart (Arizona- grown beef brisket, sourdough toast, grilled tomatoes, sauteed spinach, gruyère cheese, two poached eggs topped, sausage gravy, hotel potatoes).