One of the best ways to unwind after a busy day is a stop at happy hour. Appetizers, drinks and a conversation with friends is the best remedy for a stressful day in the office. We are bringing you the Best Places for Happy Hour in Oro Valley.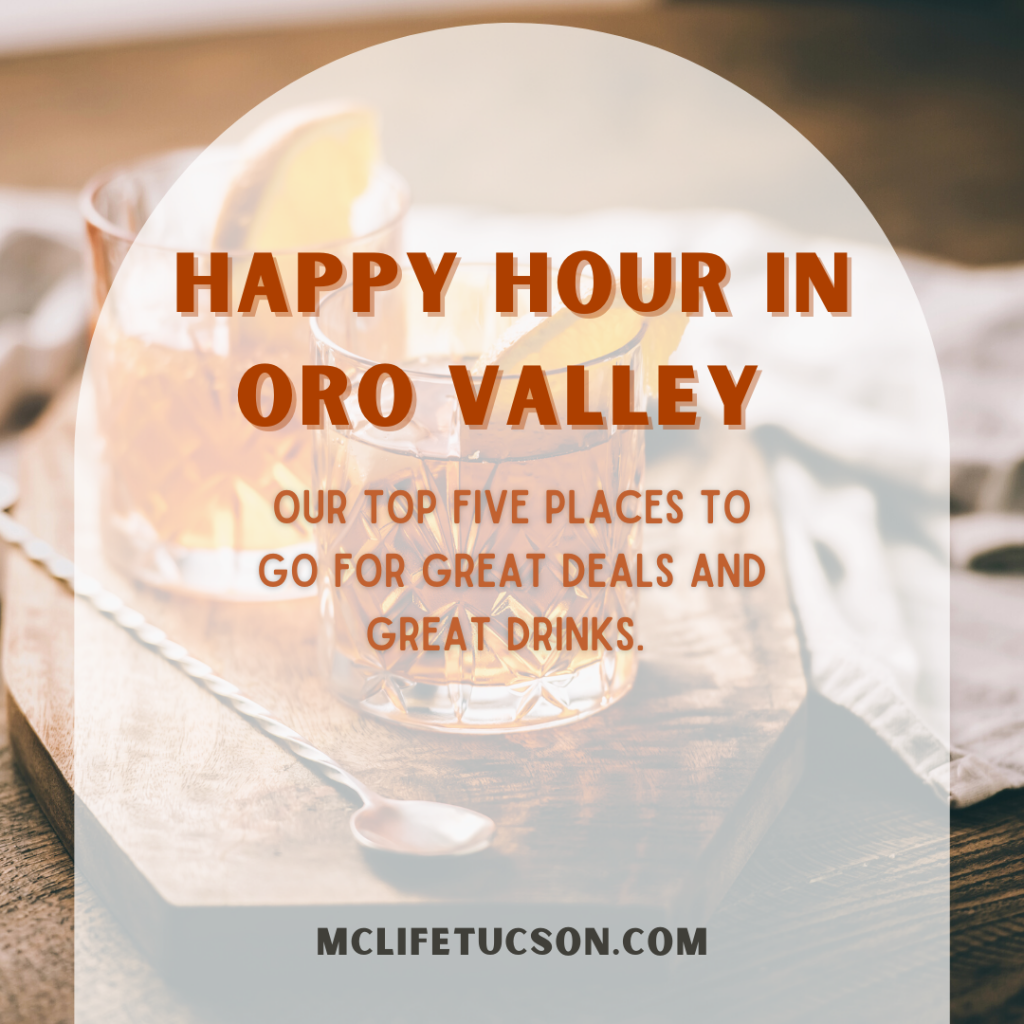 Where: 6780 N Oracle Rd, Tucson, AZ 85704
Why: Hifalutin is serving up comfort food with a Southwestern twist. It has an old west feel with yummy upscale food at reasonable prices. Happy Hour happens here during the weekdays and it is a favorite stop for many locals.
Must Try: Old Pueblo Bacon Wrapped Mexican Shrimp (Grilled jumbo Mexican shrimp with a "killer"
barbecue tortilla slaw). We also love the Sweet Potato Fries, and the Stuffed Quesadilla (Cheddar & jack cheeses, fresh avocado, chicken breast or steak, served with pico de gallo & sour cream). They have delicious salads, sandwiches, grilled dishes and hearty steaks. There's something for everyone.
Where: 1335 W Lambert Ln Oro Valley, AZ 85737
Why: Sit out their large patio and enjoy happy hour with friends. With the wide variety of small plates on their menu, you can try a couple different ones and fill up fast.
Must Try: The Ahi Guacamole (Ahi poke with jalapeño and avocado crema, served with fried wontons) is one of our favorites. The Mediterranean Lamb Meatballs (Spiced lamb meatballs with feta; served with marinated olives, seasoned tomatoes, and Romesco aioli) are incredibly tasty. The Pub House Pretzels (Buttery Bavarian pretzels, served with a creamy Kolsch, white cheddar sauce and champagne stone ground mustard) are awesome. We also love the Bar Potatoes (A mound of roasted heirloom potatoes and bacon, shredded Parmesan, and chives; served with smoked crème fraiche).
Where: 10000 N Oracle Rd, Tucson, AZ 85704
Why: This Southwestern kitchen has bright, yummy flavors in an upscale environment. Social Hour features discounted appetizers. Social Hour runs Sunday-Thursday from 4pm – 6pm. Sit outside and enjoy the weather while you indulge in some delicious appetizers and cocktails.
Must Try: Chef Jonathan's Chips & Salsa Trio (Smoked Tomatillo, Chili de Arbol Pico, Fresh Tomato) is a great place to start. The Petit Southwest Wedge (Mesquite Bacon, Corn, Cucumber, Local Tomato
Cotija Cheese, Chipotle Ranch) is a social hour favorite. If you want a meal rather than small bites, order the Smoked Short Rib Burger or the Fish Tacos.
Where: 12005 N Oracle Rd, Oro Valley, AZ 85737
Why: While we usually try to avoid recommending chains, The Keg has a great environment and happy hour deals we can't ignore. Their "cocktail hour" is available in the Bar and on the Patio from 4pm – 7pm every day of the week.
Must Try: If you're going with the cocktails, get the mojito. They also have a decent wine selection on the cocktail hour menu, as well. While the food options aren't vast, they are delicious. Definitely get the Mushrooms Neptune (Simmered mushrooms served with crab and cream cheese). The Prime Rib Sliders are also yummy. The Loaded Nachos (Cheddar, Jack, olives, jalapeños, tomatoes and green onions, with spicy chicken or beef) are another favorite during cocktail hour.
Where: 7401 N La Cholla Blvd Tucson, AZ 85707
Why:  This contemporary Japanese eatery is a popular spot for great sushi, Japanese fare, and of course, happy hour. They also have an awesome lunch buffet that you should check out sometime!
Must Try: You can't go wrong with a Las Vegas Roll. We also like the spicy rolls and usually go with a spicy salmon roll. The fancier the rolls get the more expensive they are, so most of the big specialty rolls are not included in happy hour. We usually look at the happy hour half price rolls and go from there.