Having a home cooked meal is great, but sometimes, you just want to go out and spend time with friends and family. Thankfully, we incredible options in Oro Valley. No matter what food you are craving, you can find an incredible place to eat in Oro Valley.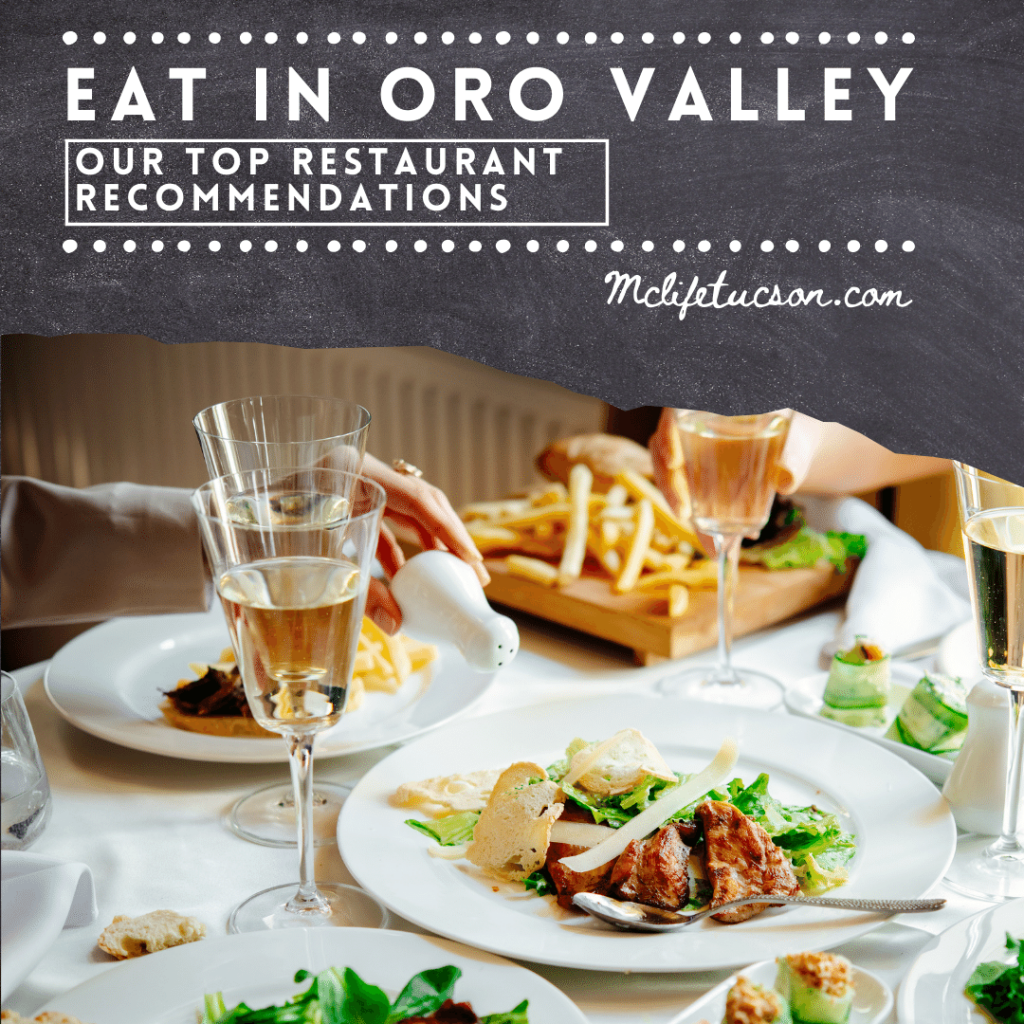 Restaurants in Oro Valley
10355 N La Canada Drive, Suite 141
(520) 731-1100
A big trend in the "foodie community" is supporting local growers and purveyors. Harvest does just that–locally grown, locally owned, and with a "back to basics" approach to dining. This is the restaurant you go to for that Tucson feeling in both the atmosphere and in the food.
12005 N. Oracle Road
(520) 219-9500
Whether what you're looking for is a date night or just a good steakhouse, this is your spot. This fine dining establishment offers the usual steakhouse fare, but the service at The Keg is what brings it above most others.
11931 N. 1st Avenue, Suite 104
(520) 297-1695
In a world of wannabes and quick stop food breaks, a family owned restaurant is a diamond in the rough. La Hacienda serves up truly authentic Mexican food using their family recipes and sharing their friendly attitudes. Visit Mexico without leaving the country at La Hacienda.
12112 N. Rancho Vistoso Boulevard
(520) 544-3005
One of the best ingredients you can find in any Indian dish is the love of a family that prepared it all. There are few offerings better in the area where you can get amazing Indian food, save for Flavor of India.
10325 N. La Canada Drive
(520) 297-3777
We've covered authentic food from Mexico, India, and good ol' fashion American dining, but there is another family owned restaurant serving up dishes straight from Italy. Cafe Torino currently offers true Northern Italian cuisine using recipes they brought over when they moved to Tucson from Italy in the late '80s.
1335 W. Lambert Lane
(520) 797-4677
Gastropubs hit the scene in 1991 and soon were a huge hit all around the world. Tucson got a taste for Gastropubs from Noble Hops, which was Tucson's original gastropub. Here you'll find fine crafted beer served up with fine fare and a great atmosphere.
10370 N. La Canada Drive, Suite 190
(520) 797-8383
Chinese food is a cuisine that is always full of flavor and usually served in big portions. Here at GMG, the food is served with quality in mind and you can choose from a huge menu of traditional Chinese dishes.
11015 N. Oracle Road
(520) 547-2839
The beauty of a sandwich is the addition of many different flavors to create one amazing meal that's portable! Baggin's Gourmet Sandwiches are just that, gourmet. Baggin's is one of Tucson's favorite sandwich places. Don't forget to eat the cookie in the bottom of your bag!
10509 N. Oracle Road
(520) 219-1908
Sushi isn't everyone's favorite, but Sushi Valley may be able to change your mind. Here, you'll find some of the best sushi around, and the best part is, they deliver! If sushi isn't your thing, the teriyaki offerings are just as tasty.
7882 N. Oracle Road
(520) 531-0977
Want the breakfast of your dreams? You might have to wait a bit, but it's worth it at the Village Bakehouse. The wait is because everyone knows how amazing breakfast is here at the Bakehouse. Try the French toast–freshly baked bread, it's something dreams are made of.
11165 N. La Canada Drive, Suite 130
(520) 329-8851
Zpizza is a California native restaurant, but is very welcomed in Arizona by the many regulars who visit. Using non-GMO dough that is prepared fresh every day, Zpizza makes the cut. Don't want a pizza, no problem! Try one of their gourmet salads or sandwiches and discover great tastes.
No matter what mood you're in, great food is all around us in Oro Valley, you just need to decide where to go. Sometimes that is the hardest part, because they're all so delicious!