That big name national coffee chain is all over Tucson, but when's the last time you had an amazing morning beverage from a local store or chain? There are some local tea and coffee shops in Tucson that take coffee to the next level by offering food pairings or using in-house brew methods to make the perfect cup–good coffee is almost an art form. Here's where you can find a great cup o' joe from a smaller coffee shop.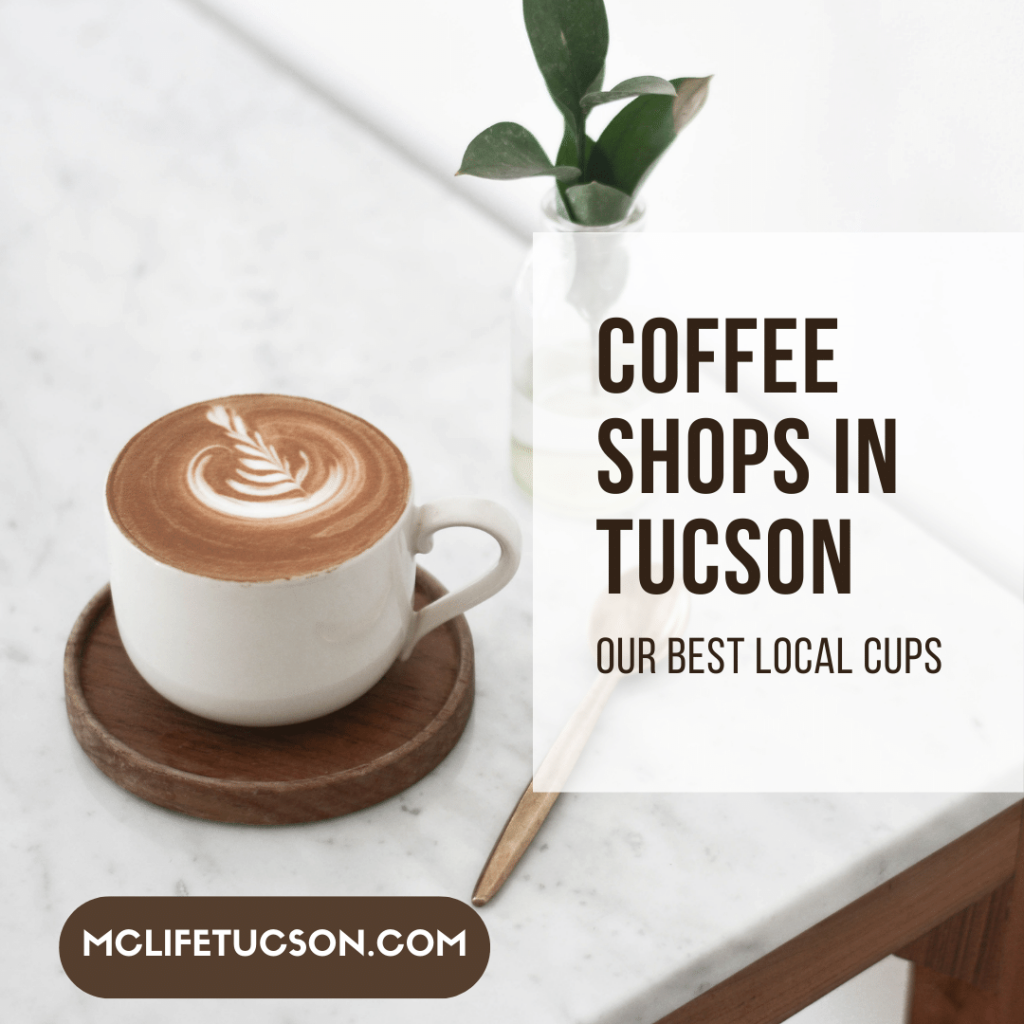 Local Tea and Coffee Shops in Tucson
4530 E. Broadway Boulevard
(520) 445-6665
Whether you're a connoisseur, a writer, a poet, or just looking for great taste, Crave Coffee Bar is a must-try spot. The airy atmosphere is just part of the great experience. The in-house roasted coffee beans make for possibly the freshest coffee you'll ever have.
Multiple locations in Tucson, Oro Valley, and Marana:
Here you'll find a truly organic cup of coffee made with health and "happiness of body" in mind. Enjoy an artisanal cup of coffee, then take a class on how to make it yourself.
2458 N. Campbell Avenue
(520) 320-5203
Raging Sage is a micro-roaster that offers coffee and pastries with great counter service. After winning multiple awards, you can taste their intent to win more inside every cup of coffee.
4024 E. Speedway Boulevard
(520) 270-6473
Black Crown has fine tuned the art of great tasting coffee, tea, internet, and magic (per their Facebook page). Open in the old Safehouse building on Broadway, it's a fun and funky eclectic shop with weekly open mic nights.
Multiple locations in Tucson: 210 E. Broadway Blvd., 2516 N. Campbell Ave.
Cartel offers a different experience to every cup of coffee. Their goal is not only to bring you amazing flavors from around the world but grow a sense of community right inside their shop. They're doing a great job at it.
9121 E. Tanque Verde Road
(520) 749-3903
The name gives it away here, their espresso is the heart of this cafe, but the baked goods are what puts them on the map. Popular with the local bike riders on their way to and from Mt. Lemmon, the LeBuzz in-house roasts pair amazingly with all their sandwiches and pastries.
606 N. 4th Ave
(520) 620-1770
"Leftist bibliophiles" opened up Revolutionary Grounds with the idea of sharing their love for books, with great tasting coffee and tea. We can't tell if Revolutionary Grounds is a coffee shop inside of a bookstore, or a bookstore inside of a coffee shop, but we do know they make a great cup of coffee.
2510 E Fort Lowell Road
(520) 881-4072
Coffee is great, but your morning caffeine can also be found in tea. Seven Cups adds a zen-like feeling to their cups of tea, which imported from China.
Whether you go for pure taste, pairings, art, poetry, live music, or atmosphere, Tucson has a local coffee shop just for you. Step away from the national chain and try something new–from a different part of town, the country, or the world.