What are you looking for in retirement? Peace and quiet? Community events? Outdoor activities? Sierra Vista Arizona has a little bit of everything which make it perfect for retirement. If you are considering to retire in Arizona, you should take a look at Sierra Vista.  
It may just be the place you have been looking for all along. This blog will introduce you to Sierra Vista and paint a picture of what life is like there and what you can expect in your retirement there. Let's get started!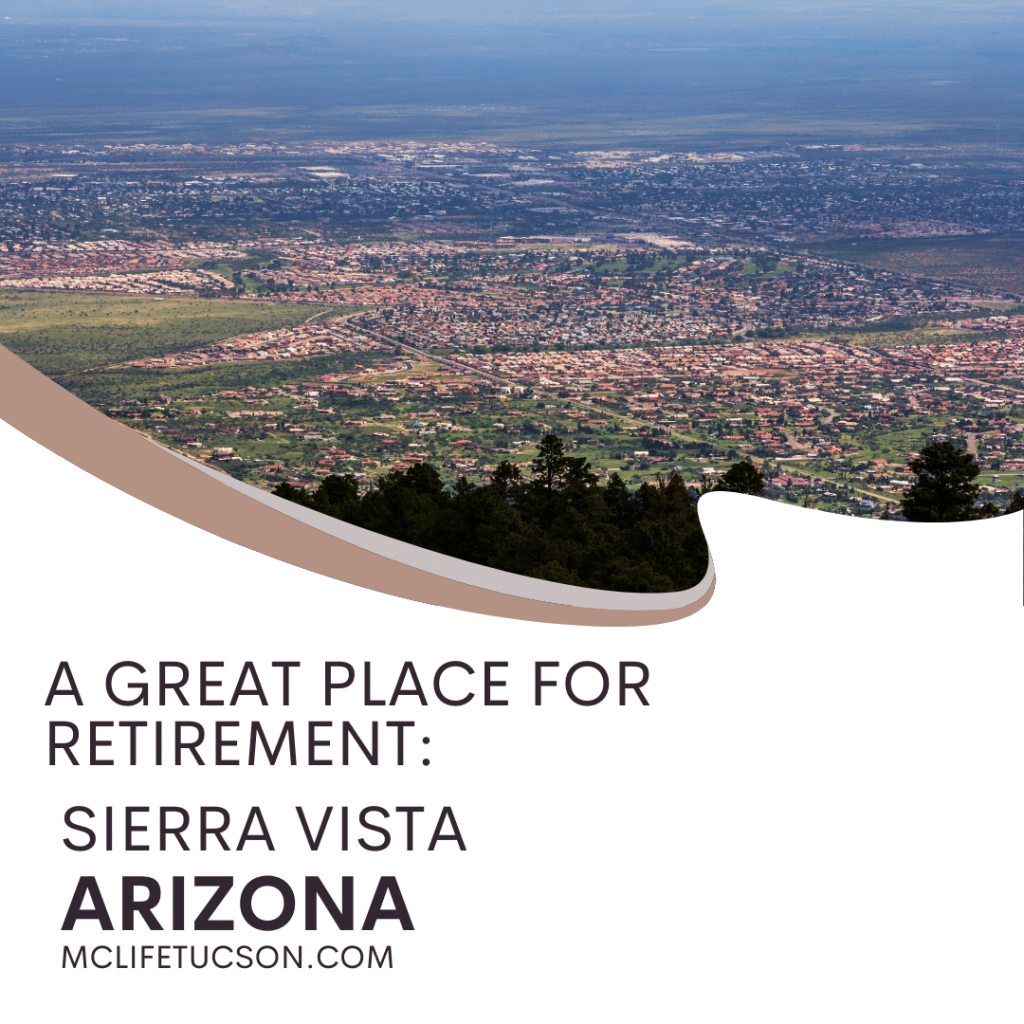 Why Retire in Arizona?
Sierra Vista is a small, tight knit community. Due to its proximity to Fort Huachuca, Sierra Vista is home to a lot of military families. Many events and organizations in town honor and celebrate military families, and veterans, and offers support for them. 
Residents of Sierra Vista celebrate their history and heritage, are friendly with their neighbors and host community events to connect everyone.
Golf in Sierra Vista, Arizona
If golfing is your hobby of choice, Sierra Vista is home to the Mountain View Golf Course. Marvel at the Huachuca Mountains while you play. It's a favorite to visitors and residents, alike.
You can also take a swing at Pueblo del Sol Country Club. The Pueblo del Sol Country Club will allow you to do a wide variety of activities. Dine, golf, play tennis, and relax. It is well known for its golf course and can become your new favorite place to play.
What to Do in Sierra Vista, Arizona
Veterans Memorial Park hosts many community events, like movies in the park on summer nights. It is a gathering place in the community for events all year long. It is home to Oktoberfest celebrations, summer concerts and more. You can picnic, rent out BBQs, play a game of horseshoes, watch your grandchildren play on the playground and more.
The Oscar Yrun Community Center is a great place to take art classes, play a round of tennis and watch some community theatre. It is home to the Pottery Studio which offers pottery classes for all ages as well as open studio time.
Sierra Vista is also home to three American Legion and Veterans of Foreign Wars offices. Both of these groups offer community events and local support. The American Legion has monthly calendars filled with weekly events to keep you busy and meeting new people. The Veterans of Foreign Wars: Sierra Vista also hosts a variety of events for veterans, service members and their families.
Outdoor Fun in Sierra Vista, Arizona
Brown Canyon Trail: Brown Canyon Trail is a beautiful hiking trail that takes you through a beautiful canyon with optional trailheads; the Pomona Mine Trail takes you past the old tungsten mine. Brown Canyon is an open canyon, among rolling hills that are covered with manzanita, grass and oak trees.
You can see the western face and the sheer cliffs of the Dragoon Mountains, as well as the Whetstones and Galiuros to the north, as well as the Chiricahuas in the east.
Garden Canyon: Garden Canyon is a bird watchers dream. People come from all over the country to see the different species of birds that call this place home. It is often a quiet place since most people come here for nature watching, picnics and leisurely hikes. It is one of our favorite spots in Sierra Vista.
Ramsey Canyon Preserve: Within the Upper San Pedro River Basin and in the Huachuca Mountains, Ramsey Canyon Preserve is a unique landscape with a wide range of wildlife. Ramsey Canyon Preserve is special because of the ecological factors around it. This is where the Sierra Madre of Mexico, the Rocky Mountains, and the Sonoran and Chihuahuan deserts all come together. We guarantee you will see something that you have never experienced before on a hike through Ramsey Canyon.
Parker Canyon Lake: Parker Canyon Lake is a hotspot for a variety of activities in Southern Arizona. Camp, kayak, hike, hunt, fish or go boating. Peaceful, and beautiful, it is an ideal spot for weekends with friends or family on the water. It offers a little bit of everything; activities, sunshine, picnics and more.
Other sites we recommend to the nature lover are Beattys Miller Canyon Guest Ranch and Presidio Santa Cruz de Terrenate which is a historical site within the San Pedro Riparian Reserve.
Where to Eat and Shop in Sierra Vista, Arizona
There are great neighborhood restaurants like La Casita Mexican Restaurant and Cantina, Peacock Vietnamese Restaurant, Taqueria la Taquiza and The Landmark Café. You can also find mainstream eateries like Chipotle, Outback Steakhouse and Buffalo Wild Wings.
Stop and see a film at Cinemark 10, shop at Spur Western Wear, or pick up some local wine at Hoppin Grapes. Sierra Vista has everything you need to stay full, happy and busy. There is a lot to see do and experience.
The Place at Savanna Springs
Sierra Vista is a neighborhood with a lot to offer and is perfect for retirement. The Place at Savanna Springs is in a great location to keep you connected with the world around you. It is a clean, safe and gated apartment community with a lot of wonderful amenities such as: a swimming pool, gated dog walk, 24 hour fitness center, bbq area, public parks nearby, a business center and onsite maintenance.
If you are curious about availability or want to speak to a leasing agent about a visit call (520) 428 – 2200 or email: What are you waiting for? Come join is in the Good Life!