We all know what it feels like to get a craving for a certain dish from a favorite restaurant. Nobody does comfort food cravings better than Mama's Hawaiian Bar-B-Cue in Tucson, Arizona. What began as one restaurant in 2010 by owner Samuel Alboy, has now grown to two locations throughout Tucson.
Teresa Urias, manager of community outreach for Mama's, spoke to me about the restaurant business and how Mama's is serving up a lot more than just delicious food. "We are filling a need with this type of comfort food. Everything we serve is made from the highest quality products and we make everything to order. We have bakers that work on site daily to make our macadamia nut lemon squares and that is an item that people love and crave. People are guaranteed to get great food and great service when they come into one of our locations."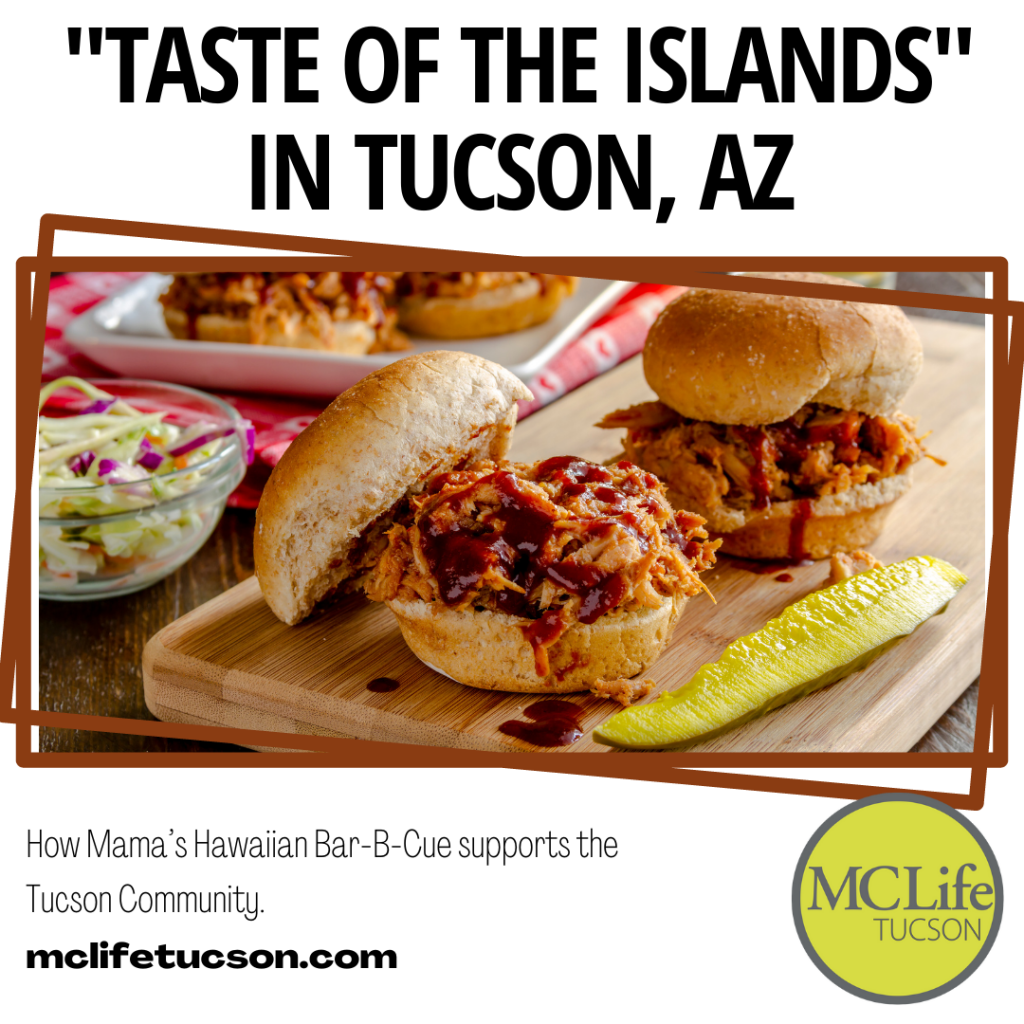 Catering
Aside from delivering fresh food in their restaurants, Mama's provides local businesses with their yummy food. "We offer affordable catering around Tucson and because we are locally owned, we can do things that are not on our regular menu when we cater events."
"We like to work with local businesses to meet their needs and budgets. We have a strong presence in the community because our owner, Sam Alboy, is so hands on with what he does and wants to work with others. Sam is on the board of Local First Arizona and is president of Tucson Originals which brings together local business owners to support local dining and to celebrate the culinary diversity in Tucson."
Giving back to the community
While most people only associate restaurants with dining, Mama's is breaking the mold and uses their services to better the community. "We enjoy helping out nonprofit organizations. In the past we have worked with Casa de los Niños, Boy Scouts of America and the Make a Wish Foundation."
Mama's regular partners with local organizations and groups to help with fundraising. They hold percentage nights where any group can sign up and on that specific percentage day, 20% of the sales brought in, goes back to that group.
Mama's is constantly trying to do what they can to support local groups, causes and businesses. That is why they are a perfect partner in McLife's efforts to raise funds for the Cystic Fibrosis Foundation and the Great Strides Tucson.
Mama's has been coming to our Tucson properties on weeknights to take part in "Sliders for a Cause" which teaches our residents about cystic fibrosis and gives them the tools and information they need to make a difference. Urias told me that Mama's "is excited to be partnering with MC and we look forward to walking in the Great Strides event. We are also taking part in the Race for a Cure Tucson Event."
Mama's Hawaiian Bar-B-Cue is doing their part to keep Tucson fed, happy and making positive progress. You can find Mama's at one of their locations throughout Tucson anytime.
You can show your support for local businesses by eating locally and going out to eat at your mom and pop restaurants rather than large nationwide chains. Support Mama's and support Tucson one plate at a time.