Going out on the town? Make sure you hit up The Shelter Cocktail Lounge!
At MCLife Tucson, we're committed to bringing you the best of your community. From animal shelters to antique shops, we're highlighting local organizations and businesses that really show what it means to live the Good Life at MCLife Tucson.
When you first visit The Shelter Cocktail Lounge's Facebook, the first thing you'll notice is the fact that it was voted Tucson's Best Martini. And let us tell you that the award was well earned and well deserved.
What kind of bar is the Shelter Cocktail Lounge?
Because they're primarily a sixties martini lounge, they have a variety of different martinis – including a coffee martini and one that tastes like an Orange Dreamsicle.
But besides martinis, they have daily featured specials, a monthly special that never repeats, and Happy Hour. Talking with Keven Breutzmann, he also added that the lounge has "all the best craft beers on-tap and bottle. We're that one odd lounge that sells more liquor than beer."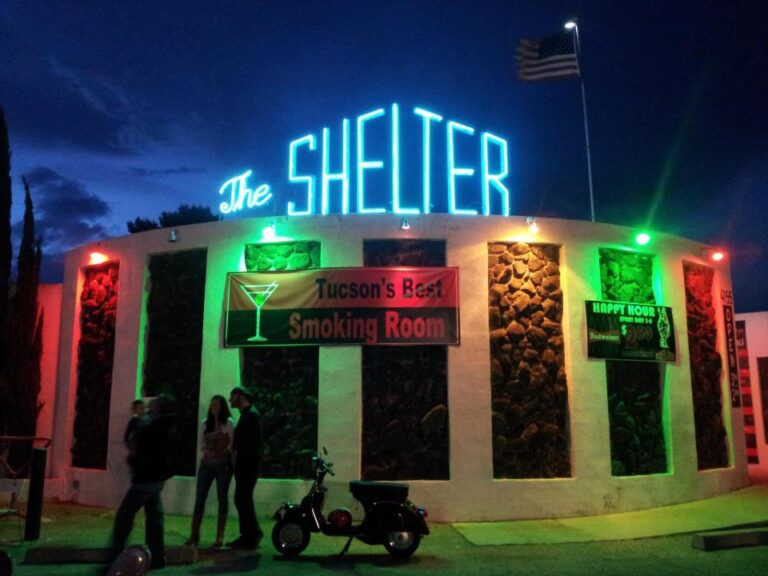 When is The Shelter open?
Open 365 days a year, from 3PM to 2AM and a Happy Hour that lasts from 3PM-7PM, the lounge was built in 1961 by "a famous woman architect who was the first female architect licensed in Arizona and still was the only one for the next twenty years.
When designing it, she originally created it as a bar, but also "unofficially double as the neighborhood bomb shelter. Although it's more of a kitchy store for functionality even though it has a concrete roof, walls and floor."
Could this lounge be any more cooler? We don't think so. So, the next time you go out on the town, or are just looking for a new place for happy hour – stop by The Shelter Cocktail Lounge!
With the swank scenery, cool music, classic movies, and friendly mixologists, it's Tucson's only 60's retro lounge. And it features classic and modern martinis and cocktails.
Specials and Menu at The Shelter
They have a great menu plus they know their classic cocktails better than anyone. Find them on Facebook and see what specials they have in store on a weekly / monthly basis!
For more MCLife Tucson fun, make sure you follow us on Facebook.