Today we're talking about the best shopping in Tucson. Check out these great spots in all your favorite neighborhoods to shop in Tucson. There's something for everyone and plenty of local favorites to shop small as well!

When it comes to Tucson living we'd be remiss if we didn't mention all the great shopping spots. There's never a bad time for some retail therapy, right?! Of course! All of these awesome shopping spots around Tucson are perfect for everyone and with the holidays right around the corner you won't want to get behind!
Check out all of these awesome spots for shopping in Tucson and get ready for all your shopping needs this holiday season and all year round.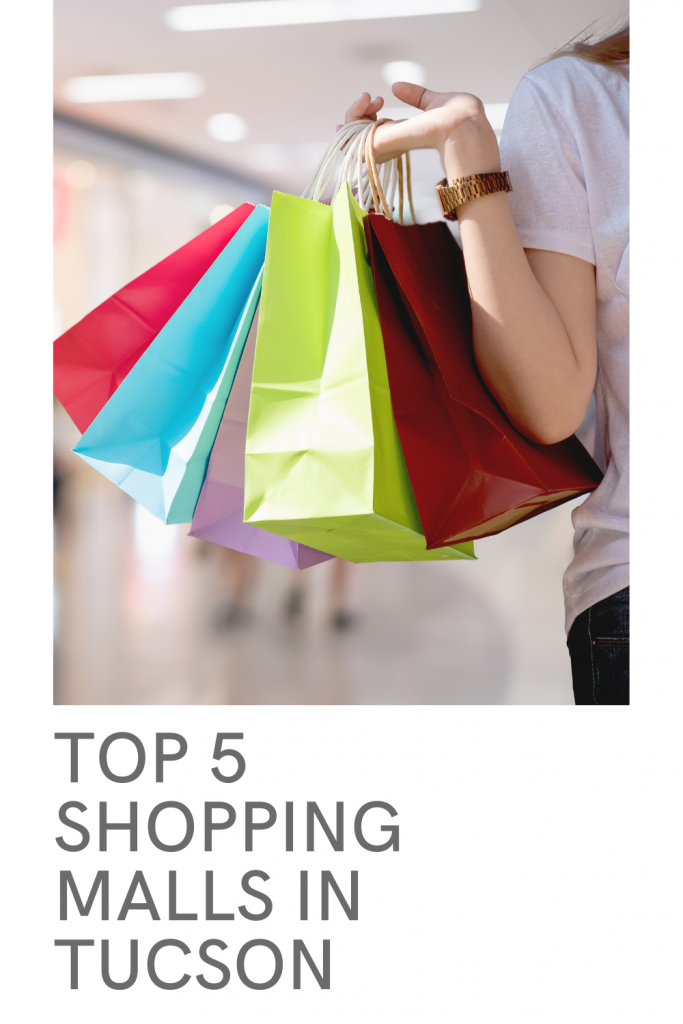 Best Shopping in Tucson: 
Let's dive right in. Who wants to wait when we could be shopping?! Here are our favorite spots for shopping in Tucson. You can shop a few of our favorite local spots and also check out the malls for an immersive shopping experience.
Sometimes when it comes down to it you just need the mall! There's nothing quite like the feeling of spending the whole day browsing from store to store finding the perfect items. There is everything from the simple malls of our youth to upscale luxury malls that will have all the designer items you are looking for!
6230 E. Speedway Blvd. / 3330 E. Speedway Blvd. / 3733 W. Ina Rd.
Bookmans has a few locations in Tucson and if you are looking for a great way to cut down on retail waste by shopping used you'll want to check out Bookmans. They do all kinds of entertainment items, gifts, antiques, and even musical instruments!
It's an awesome choice for shopping for used items and unique gifts! If you need an option with knowledgeable clerks that will help you find exactly what you are looking for, head to Bookmans!

Fourth Avenue Shopping District
4th Avenue in Downtown Tucson
No shopping in Tucson without checking out the Fourth Avenue Shopping District. It's right downtown between the University of Arizona and Downtown Tucson. There's tons of shops that sell everything from unique local art to books, furniture, and fashion. You will also find tons of places to eat and grab a drink!
4500 N. Oracle Road, Tucson, AZ 85705
If you want to take a shopping trip with the whole family you'll want to head to the Tucson Mall. It's perfect for everyone because there are just so many options. With over 170 stores there's sure to be something you are looking for from outdoor equipment to clothing and kid friendly stores!
This is an outdoor mall which also means that you can drive around to all the different shopping locations if you don't like having to comb through all the indoor malls!
6401 W Marana Center Blvd, Tucson, AZ 85742
The Premium Outlets in Tucson have all the best stores but you'll be saving SO MUCH by shopping the outlets. Up to 65% off in some cases which is a great way to save money while still shopping for brands you love.
You'll find stores like: Banana Republic Factory Store, Brooks Brothers Factory Store, Michael Kors, Nike Factory Store, Tommy Hilfiger, and more. You'll also get to enjoy the gorgeous mountain views at this outdoor freestanding shopping center. Conveniently located right off I-10 at exit 244!
2905 E. Skyline Drive, Tucson, AZ 85718
For those of you looking for a luxury shopping experience that has all the high end brands and designer fashions you seek check out La Encantada shopping mall. You'll find brands like Apple, Michael Kors, Anthropologie, and others. This is a more tranquil location which has amazing views of the Catalina Mountains. This region is also known for some of the best dining and social activities in the region so you can even make a whole day of it and have a great date night or girls night before heading home!