If you are looking for pet boarding in Tucson or kennels in Tucson we can help you find the best one to suit your needs. The holidays are upon us, you might be needing pet boarding while you travel or are hosting guests.
For those of you who are moving or relocating and want to help our pet stay busy and cared for while you all settle in, pet boarding and daycare options are essential. No matter why you need to board your pet we can help, this list has lots of great options for kennels and boarding in Tucson.
There's nothing worse than being worried about how your pet will handle the holidays, travel time, and moves. With these great boarding options you can make sure that your pet is well cared for no matter what is going on in your life.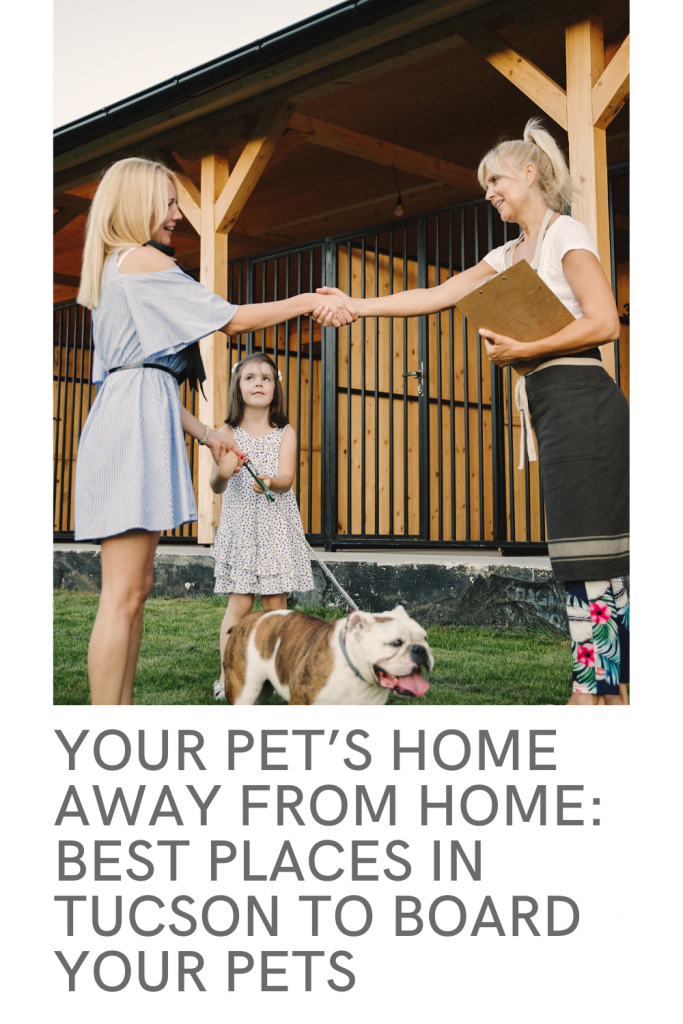 Pet Boarding Tucson | Kennels in Tucson
When it comes time to find a great kennel in Tucson for your pets you'll want to be sure that it's a quality boarding choice. You want to be sure you can trust the people who will be caring for your pet while you are away or unavailable to spoil them yourself!
These choices are not just local to Tucson they're also highly rated and recommended frequently as excellent options for pet boarding in Tucson and the surrounding areas. You can rest easy knowing that if you board with any of these kennels in Tucson your pets will be well cared for and happy even in your absence.
There are a lot of reasons that people end up needing to board pets. The holidays are coming up quickly and sometimes we have to travel and can't safely or logistically take our pets with us. That's sad but it's not a reason to avoid holiday travel. You have options!
Another reason a lot of people choose to board pets this time of year is to help them not be overwhelmed. If you have rescue pets you probably know that they can be very easily overwhelmed and some pets are especially reactive during stressful times. Boarding can be great for them where they'll receive special care without being stressed at home with your home full of guests!
Finally, when emergencies happen (and they always do eventually) it is always good to have a plan for your pets. Make sure you know where you could board pets in the event that something out of your control happens and you need to have them be somewhere safe and cared for while you sort through any number of situations!
Exceptional Pets
2585 N Abrego Dr Green Valley, AZ 85614
(520) 416-4291
Sabino Canyon Pet Resort
2001 N Sabino Canyon Rd Tucson, AZ 85715
http://sabinocanyonpetresort.com
(520) 365-2446
Orange Grove Animal Hospital
3091 W Orange Grove Rd Tucson, AZ 85741
(520) 594-1572
Sol Dog Lodge & Training Center
9665 N Thornydale Rd Ste 140 Tucson, AZ 85743
(520) 345-0075
Tucson Pet Hotel
(520) 305-1824
Auntie Cathy's Pet and Home Care Services
3161 W Massingale Rd Tucson, AZ 85741
(808) 635-5602
Paws n' Critters
Tucson, AZ 85742
(520) 609-7097
At-Home Kennels
9575 E Millmar Rd Tucson, AZ 85730
(520) 722-3162
Dawg House Day Care & Boarding
2201 N Stone Ave Tucson, AZ 85705
(520) 903-2949
Dogtopia – Oro Valley
7621 N Oracle Rd Oro Valley, AZ 85704
http://dogtopia.com/oro-valley
(520) 549-3740
Apartments in Tucson | The Best Pet Friendly Apartments:
For those of you who are looking for apartments in Tucson or the best pet friendly apartments in the area you'll want to check out both The Place at Edgewood and The Place at Creekside.
Our MCLife communities have a 100% pet friendly approach to housing. We have great features and amenities that you won't find anywhere else but we also have zero pet restrictions. That means you can have awesome housing and not stress about how your pets, large or small, will factor into that choice.
Be sure to check out all that our communities have to offer and let us know if you have any questions. We'd love to have you join the MCLife community here in Tucson. There's so much to see, do and explore in this area and having a great apartment to come home to at the end of the day is a must!
Living in Tucson | Tucson Living Posts:
Looking to learn more about the area? Thinking of living in Tucson or just visiting? We've got you covered with some excellent posts that will help you see just how much this area has to offer. There is truly something for everyone from pet lovers to outdoor adventurers and foodies. Check out this list of posts to learn more today: